SCStrings! Wedding Music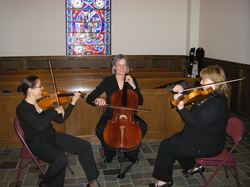 SCStrings! is comprised of the finest string players in the Ann Arbor and Detroit Metropolitan areas. All of our members are professional musicians with many years of performing experience in orchestras, chamber ensembles and recitals.

Every member of SCStrings! is well trained to provide a first class, memorable performance for your wedding or event. Available for all occasions, SCStrings! can be booked as a string Quartet, Trio or Duo. Larger string ensembles, as well as strings with piano are also available.

Contact SCStrings! at 734-330-7141 or complete form below.


---